Crucial question for artists, experts, coaches, and healers who still haven't figured out how to put their wealth of knowledge and experience into an appealing and effective course framework:
What's the difference between: an online course that SPOTLIGHTS your unique genius, gets your students remarkable results, and has your Stripe account pinging predictable transfers to your bank …
…and one that packages your hard-won expertise into a generic program that looks like a how-to manual anyone can buy on Udemy for $19?
If you guessed: how many modules you created for your course and whether every one of them had its own worksheets..
…you'd be wrong.
If you guessed:
  whether you bought a teleprompter, hired a videographer and filmed everything direct-to-camera…
…you'd be wrong.
If you guessed:
 choosing the right classroom platform, making animated slides, or running a four-week pre-launch marketing sequence…
…you'd still be wrong.
Because while all of these things have their place…
 None of them makes a lick of difference if you haven't inventoried your expertise and developed a course methodology and framework that honor your unique approaches while serving up the value your would-be students want. 
Here's the truth about your expertise…
and the impact you SHOULD be having:
You are someone with skills and knowledge that enables you to get remarkable results.
Both your own outcomes and those you've helped others achieve bear this out. You've seen things like: 
New painters capture realistic seascapes
Overweight clients move toward their goal dress size
College students get accepted into their dream schools
Anxious and unhappy professionals become creative and feel more relaxed
You'd love to get your tried approaches into an online course, so that:
MORE people can experience their impact, and 
you can grow your authority and your business portfolio.
You might have tried to organize your ideas and expertise with a good old-fashioned "brain dump." Here's how that works: 
You sit down and list out the way you do things: #1 put paint on the palette, #2 pick up a brush, #3 add first layers.
Or maybe you put it all in a Google doc.
Or you might have filled a blank wall with Post-it Notes and moved them around for a first skeletal outline.
This approach gets you the kind of basic, step-by-step course that's already inside all of those listings on Udemy or Skillshare.
You have a start this way.
But you also have something more like a how-to manual than the one-of-a-kind expansive experience your students want and deserve.
Your students have aspirations–and so do you.
To honor the full extent of your expertise, you need to create a course that goes beyond stepped-out concepts and how-tos. 
Such a course does more than present projects to be copied.
It builds on:
the givens in your field (the things everyone knows), and
the techniques and "rules" you've internalized throughout your own 10K+ hours of  practice.
Albert Einstein, Steve Jobs, Justine Musk and Paula Scher are just a few of the creatives who've praised mastery of linear and lateral thinking, of combinatory play, of thinking to stand out:
These expert thinking practices are essential for creating a course that stands out, a course that is built on a rich methodology instead of a skeletal and familiar outline.
When your students have a path that enables them to do more than mindlessly copy you in a step-by-step manner, their own work will be expansive. 
That means they will achieve the results they truly desire.
And they'll experience the benefits of those results: benefits ranging from improved health or status, to better relationships, new opportunities, and even more time
As your students experience those benefits, your authority grows–and with it your own sales, opportunities and well-being.
When you take the time to create a stand-out program built on your unique methodology and framework, it is time well spent: for you and for your students.
It is possible to create a course that spotlights your unique genius and gives your students an expansive and value-packed experience–but it depends on doing things differently.
You can get beyond the predictable hum-drum approach to course creation when you use the Stand-Out Signature Course Framework to inventory your expertise, generate ideas, and develop a signature course methodology and framework you know the market wants.
You'll use: 
an expertise inventory method designed especially for the processes of creatives, coaches, healers, and subject-matter experts,
an idea-generation process that yields dozens of potential projects built on the expertise you already have–and the approaches you know work,
a method-first approach to developing course content and offers so that your "big promise" and "big how" come together for a one-of-a kind, results-getting program that could only come from you.
And now let me introduce:

The complete system for inventorying your expertise, generating fresh ideas, and developing a signature course methodology and framework you know the market wants.
This class has been more than a way to create stand-out courses. It has been about defining my art business both online and offline.
I've been trying to define my artistic voice for a couple of years, and now I'm finally doing that. It's because this course guided me to focus on what I want to share and to find the best way to share it. 
I was recently chosen as an artist-in-residence at a local art center. Now I know how to organize the workshops I'm required to teach, and I feel confident in presenting my material. I'm able to do a deeper analysis of my knowledge, and my art has opened up more. I know how to structure the classes and I've gotten amazingly positive feedback from my students. The whole process is more fun.
Here's how it works:
Use a four-step process to discover the power of your expertise, assess your audience and ideas, develop your stand-out signature offer and framework and then create stand-out lesson content.

STEP 1. DISCOVER the Power of Your Expertise
You'll immediately dig into understanding the unique power of your knowledge by doing an Expertise Inventory and then plugging those results into your own Idea Generation Grids.
Without this essential first work, course builders rehash the predictable how-to approaches  that are already common in the market.
You will:
Inventory five aspects of expertise that fuel idea generation and course structure.
Answer think-to-stand-out prompts to develop your most valuable asset: your expertise.
Map your expertise inventory to find the "new combinations of old facts" that fuel fresh course ideas.
Harness both linear and lateral thinking to boost your stand-out teaching and understand two key methodology elements: Crucial Concepts and Creative Crossroads.
This sets you up to do the work of understanding what your audience wants (and why!) so that you can make a Big Promise that will be successful in the market.
STEP 2. ASSESS Your Audience and Ideas
With a fresh understanding of what makes your expertise unique, you'll now assess your ideas by identifying what keeps your best prospects up at night and how you can best serve them.
If you skip this essential work, you'll struggle to enroll students. Instead, let's get you crafting a profitable Big Promise by doing the work to answer these key questions:
What are your best prospects struggling with and what do they want to accomplish despite any obstacles they see as just too big to surmount?
What's the most valuable Big Promise you can make to these particular prospects and how do benefits convert to value for them?
How do you get hands raised and prospects self-identifying, saying: Yes. That's me needing what you're offering.
With a well-crafted Big Promise crafted, you are ready to develop your stand-out signature course and framework.
STEP 3. Develop Your Stand-Out Course
Now that you know your Big Promise, it's time to define the distinctive Big How that could only come out of your expertise and experiences.
You'll develop a Methodology, Rich Outline and and Stand-Out Framework that honor your special talents and give your students the expansive and effective course they desire.
Do this crucial work by understanding:
 
The 3 core course structures and 4 structure variations that give you multiple starting points.
Elements of a Stand-Out Course Methodology and 4 sources to mine in your own development work.
The 6-step Rich Outline process that leverages layered iterations so that you get started easily and then keeping moving forward until you have a detailed map for lesson creation.
How to create a visual Framework that make your course methodology and structure visible, accessible and appealing
With the clarity you now have on your complete course outline and offer, it's time to create the course content.
STEP 4. CREATE Your Course Content
With a crystal clear path for content creation mapped out, it's time to turn all that work into completed lessons.
You will:
Define crucial aspects of course delivery including: venue, medium, pacing and support
Use a 6-step process for going from raw ideas to completed lesson framework.
Learn how to teach with approaches that enable your methodology to shine, including: weaving lecture and demo, using recurring lesson arcs, teaching at the creative crossroads, and layering in the mindset coaching that gets your students over the finish line.
I learned as much about creating outstanding classes from stepping back and observing how Debbie delivered this course, as I did from what she taught. 
The idea grid is no doubt the most powerful tool I learned: Before this, I couldn't come up with ideas of possible classes beyond a very basic step-by-step, but now I know that any course or program I develop will indeed be "stand-out" and not simply another run-of-the-mill online class.
Here's how you're supported:
4 Group Coaching Calls and a Private Community
Four live coaching calls will run for as long as is needed for me to answer all of your questions.
This means that if YOU want support, YOU will get it. If you want me to know about your business and plans, all you have to do is participate in the community and coaching calls.
It's so exciting to work together on developing YOUR OWN original approaches to sharing your expertise. It gives you confidence, direction, solid messaging and a framework for a variety of programs.
Can't be there for the calls? You'll get notice a few days before each session, and you'll be able to submit questions and listen to the recording later. Calls are scheduled for June 16, June 23, June 30 and July 7.
Lesson-by-Lesson Workbooks (show you exactly what to do)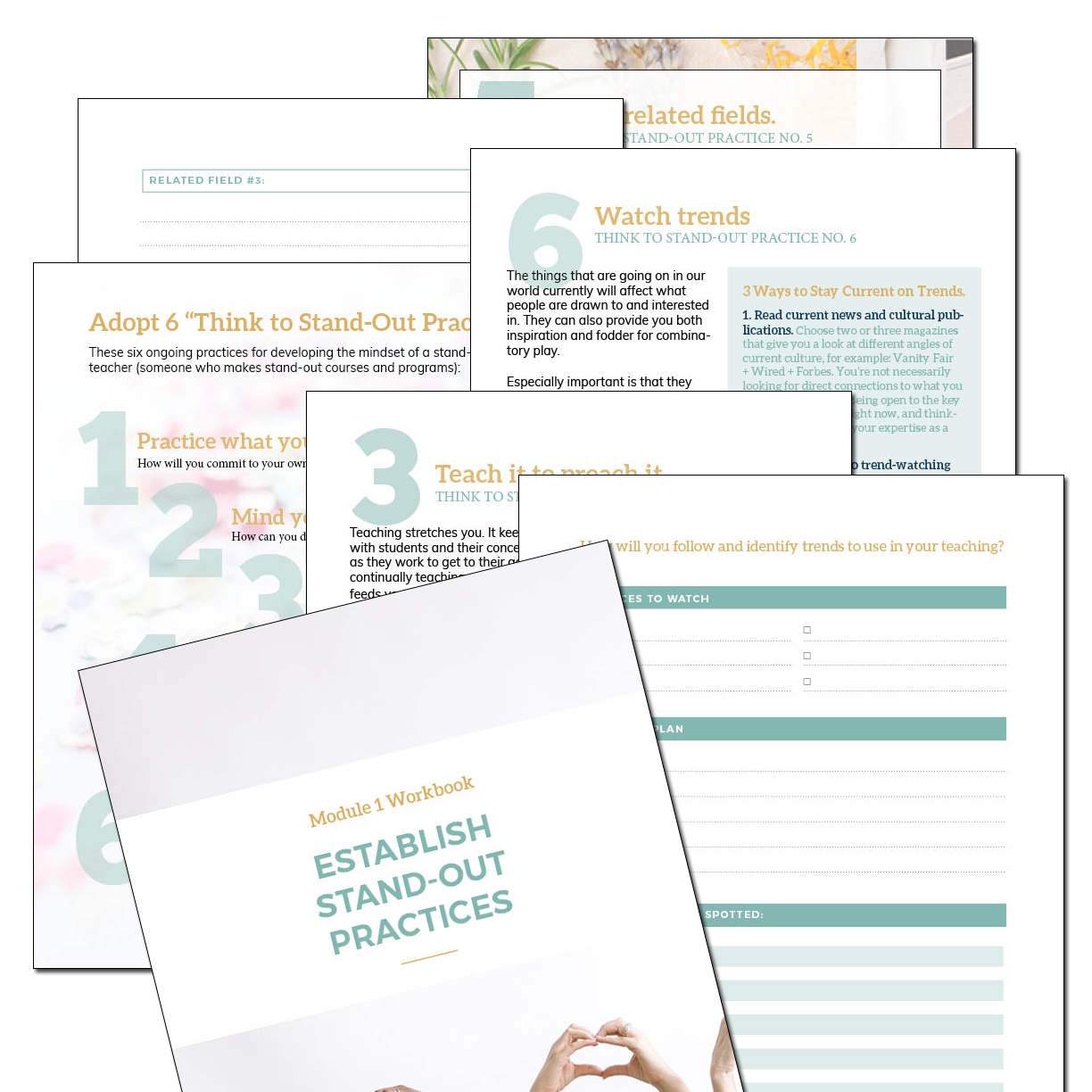 You're working with your ideas, and you're developing an inventory as well as multiple course ideas, a methodology, an offer and a complete class. That means lots of moving pieces.
We're making sure you always know what needs to be done and can refer back with lesson-by-lesson workbooks that lay it all out and keep you moving forward.
Over the last several years I have had more course ideas than I can count, but when it came down to it there was always one thing stopping me—eventually I get to the point where I ask myself, "what makes this course different from all the other courses about design, branding, social media, etc?"
Until now I never had an answer.
With Debbie's Stand-Out Signature Course Framework Method, I came away with the tools and the confidence I needed to move forward with my ideas and start building my own signature methodology. This was HUGE for me—the missing piece really!
The level of clarity that came from using Debbie's process has me closer to delivering my program than ever before and what's better I'm truly excited by the content I'm creating!
Are you ready to create a course that spotlights your unique genius and gives your students an expansive and value-packed experience? 
All four modules in this self-paced program are available as soon as you enroll.
OR ADD ONE 50-MINUTE
PRIVATE COACHING CALL FOR
The Program Includes a 7-Day No-Questions-Asked Risk-Free Guarantee (that's 7 days from when the first module is released!)
Know this: Build Your Stand-Out Signature Course Framework is a deep-dive into transforming your expertise into one-of-a-kind methods and programs that could only be created by you. 
I'm committed to giving you a valuable experience, and that includes close support through coaching calls and community. 
When you enroll, you become part of a special group of course builders. 
By the end of 7 days, you'll have had time to get inside, inventory your expertise, generate dozens of new course ideas and learn about thinking to stand out as a teacher.
If you don't feel inspired, newly in control of your expertise, and confidently moving toward developing your stand-out program, reach out within 7 days via teachwhatyoudo.com/contact and let me know. I will refund your investment with no questions asked. 
**The 7 days starts with Module 1 release even if you purchase earlier. That means you have until midnight ET on June 14th to request a refund.
Meet the designer of the Stand-Out Signature Course Framework Method: 
Hi. I'm Debbie Hodge, and I've run online teaching businesses since 2007, creating and selling over 100 crafty and technical courses.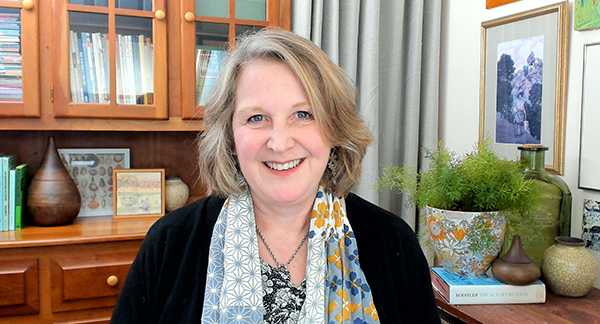 I've been in love with "explaining things" since my first extra-credit report in elementary school. Mix that with my passion for creative endeavors (writing, photography, scrapbooking, web design) plus an MBA, and it makes perfect sense that online teaching and course design is my perfect gig.
Especially since this work has enabled me to work from home and raise two boys up into tall, bearded men.
After years of teaching creative and technical classes, I developed the Stand-Out Signature Course Framework Method to help would-be course creators make profitable, results-getting programs and courses…
… so that they can raise up their own tall and bearded sons. Or quit the 9-to-5 gig. Or simply do work they love.
What I can tell you about this work is that it is immensely satisfying–pulling together your creative, logical, and expert-topic skills.
I want to make sure you move the processes that have gotten you exceptional results into an idea-generation knowledge-base and then into courses that stand out in the market.
 I am an artist who wants to share the joy of creativity with others. I was struggling to find a way to bring my teaching to potential clients. I had no idea how create and deliver my content.
Do you remember what it felt like to grab a cup of tea and watch Martha Stewart back in the day and think, "yep I can do that?" Well that's what I am feeling now: that "anything-is-possible" feeling.
I have tried a lot of courses and classes over the years and…I do believe Debbie wants success for her students. That matters so much these days. She was right there to help or advise, just a FB post or coaching call away. I truly felt supported.
Questions I'm Hearing Before People Enroll in
Build Your Stand-Out Signature Course Framework
Q: Typical course structures don't work for me because what I teach requires my students to do internal or creative work, work that can't be taught in "5 discrete steps" but is instead more ongoing and subjective. Will this method accommodate me?
Yes. In fact, this approach guides you to develop a course structure that works for your content. The Course Structures lesson in module 3 presents 3 course structures–and then shows several variants. The Rich Outline lesson will give you an iterative and layered approach for shaping a structure for your particular expertise and training.
Q. This is important work to me. I want and need to get it right, but I'm not sure I'm ready to do it yet.
With the 4-Step Method taught here, you'll take several actions that will elevate your expertise help you become more confident in the value of what you have to share.
That work starts with an inventory of your expertise and idea-generation process that opens up dozens of possibilities you probably have not thought of before. And THAT will be energizing as you realize: 1. how much you have to share, and 2. the many ways you can impact your people.  
Q. I don't have much of an email list yet. Is it really the right time for me to do this?
That's OK. If you're new to this work, you're still developing your message, your offer and your understanding of just who needs to hear what you've got to say.
The work of Module 2, in which you Assess Your Audience and Ideas, will give you a clearer understanding of just who your people are and the content that will attract them to your free content and mailing list. 
You'll have an even stronger sense of what to share in order to build your list once you've created your Rich Outline. That's because you'll create free content with the end in mind, content that starts the right conversation for revealing the gap between where they are now and where they can be with your training.
Bottom line is: As an online business owner, building your list is always going to be a core activity. No exceptions.
Question is: Would you rather build your list from a place of stuckness — or from a place of having just completed an incredible course or workshop that you're ready to share with the world?
Which one feels more confident, expansive and profitable to you?
Q. Will this make me a better teacher?
This program is all about making you a better teacher, guiding you to break down all that you do AND all that your students need to understand.
The work of understanding your students' "Creative Crossroads" in Module 3 as you build your Methodology is essential to teaching that truly empowers students.
Q. Will you teach technical topics like setting up a classroom or filming a video?
No. This course is focused on content strategy, content development, and content creation. You'll figure out all you have to teach, what to teach right now, and how to most effectively design and teach it.
Q. Can you remind me of everything I'm getting?
4 Modules with 17 lessons. Modules are released weekly.
Detailed workbooks that guide your work so you can take action easily to develop and create your signature course.
4 Group Coaching calls (and recordings)
Support in a private Facebook group
I am so happy that I crossed Debbie's path! The course is a gem. Right after I watched the idea generation lessons for the first time, I was like…. 😮 with all sorts of ideas and clarifications. Immediately after it finished I was literally like "Daaaannnnngggg" because I was so impressed. Then I laughed about all the potential that I felt heading in my direction. WHEW, I get it, Debbie
How to be absolutely sure you're ready to step into
Build Your Stand-Out Signature Course Framework
Check off three or more of these, and come on in!
1. Your skills, experience and unique genius CAN'T be put into a simple box. You're super proud of this, and excited to dive into the method-first, 4-step process of course creation better tailored for creators like you.
2. You're an experienced healer, artist, creative, therapist or spiritual coach whose "deliverables" aren't hard and tangible with a clear endpoint. Up to now you've felt like this has been a limiting factor in creating an online course — but are now starting to see how it's actually a gift to be honored and celebrated!
3. You're willing to dive into the 4-step process with an open and curious mind and the commitment to working through the process to develop your unique course framework. 
4. You feel super comfortable knowing that you have 7 days to go through the first module before making a final decision. If for whatever reason you're not overflowing with newfound excitement and inspiration around your course, you can simply send an email to hello@teachwhatyoudo.com and we'll send every dollar back. No questions asked. No hard feelings.
5. You're ready to put any past missteps behind you, and joyfully recommit to putting your life's work into a course or program that serves more people in an exciting and profitable way
I had a HUGE a-ha moment that upheld my own original impulse to take a focused approach to teaching college essay writing. I've been feeling I should change things and follow what is working for other similar online programs and put in "everything but the kitchen sink"–even though I didn't think it helped my students. And doing that put me in direct competition with those other courses!
I now realize I have a very unique process that will allow me to best serve my students and their families. I just LOVE this course and am so glad Debbie created it. I *needed* this.
Your mission and calling is so important, and I thank you for your courage and commitment in sharing it with the world.
I know it's not easy. I know it often feels like the "online game" is stacked against you. And I know that it often feels impossible to convey the creative, subtle or experiential magic behind your expertise–and you worry that your course won't stand out, that it will end up deprived of its proper place in the online course world. 
But I personally believe it's time for us to rewrite that story and let your genius shine in the way it was meant to. 
Your work deserves it. 
Your clients and students deserve it. 
But most importantly… YOU deserve it 
I'm SO appreciative of your trust in me, and sincerely hope we get the chance to meet inside Build Your Stand-Out Signature Course Framework.
Debbie
Are you ready to create a course that spotlights your unique genius and gives your students an expansive and value-packed experience? 
All four modules in this self-paced program are available as soon as you enroll.
OR ADD ONE 50-MINUTE
PRIVATE COACHING CALL FOR